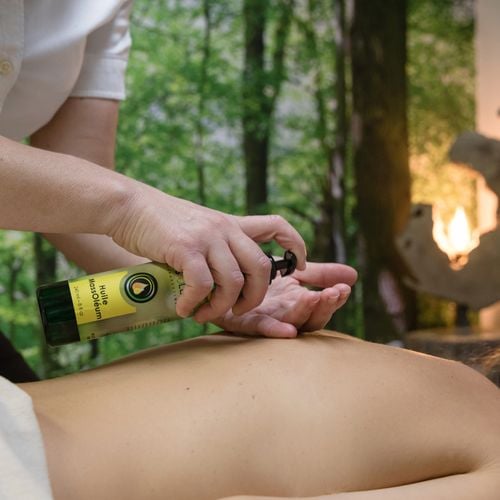 Sign up for our newsletter and get a 10% off promo code for your next order!
Here are the testimonials of massage therapists and users of Massoléum products!



BEFORE / AFTER

Our first customer satisfied and impressed with the performance of Massocrème Neutre on his chapped hands, he can't do without it ... a big thank you Lynn and Bernard!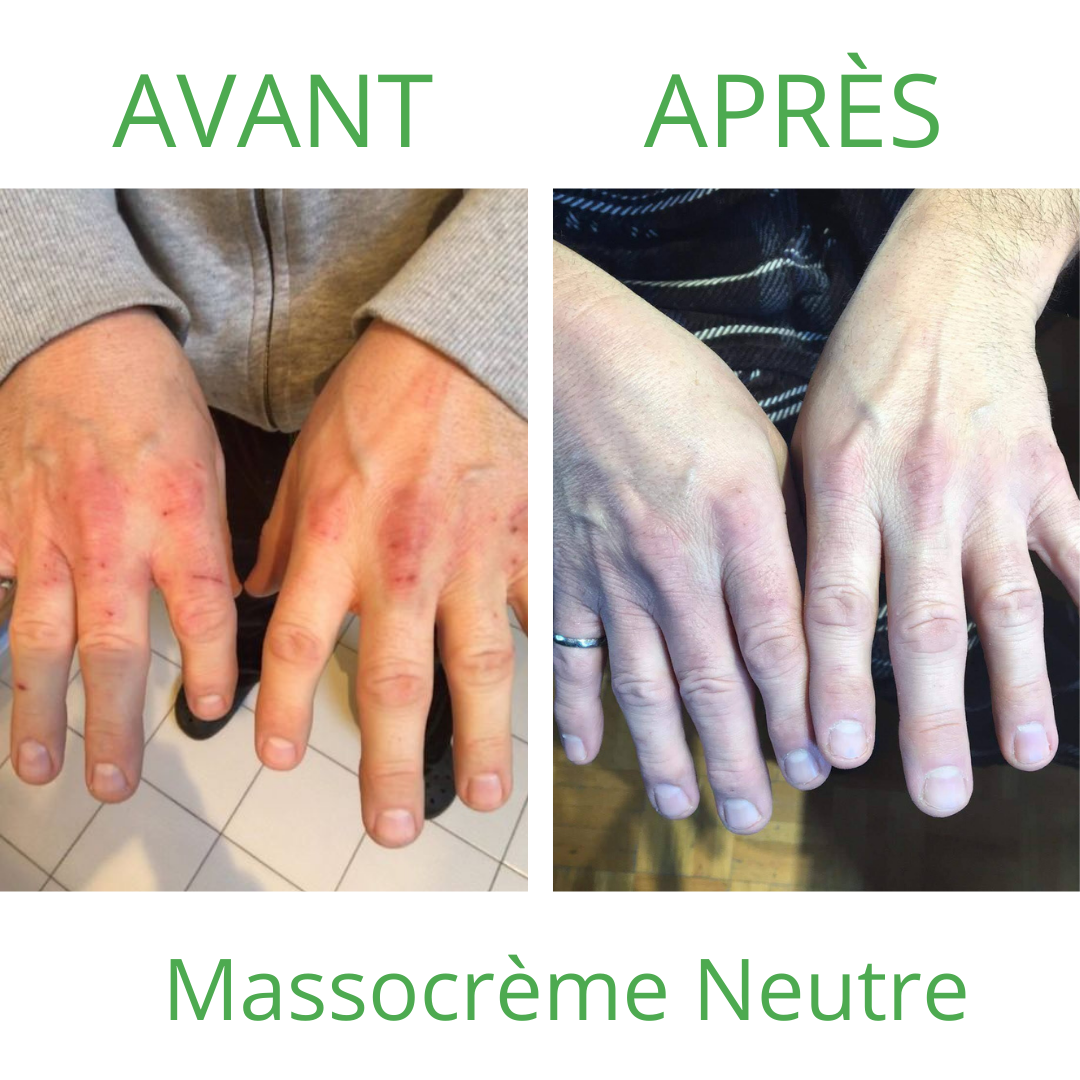 Other before after after 1 day of using dermatitis dry oil from the Oléum range by J.L.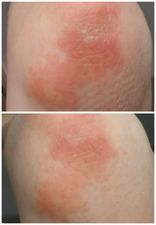 Oléum Dry Oil
I come here to share my story with MassOléum products. As a reflexologist, I do not use products for massage therapy but I contacted Julie to find out if she had a cream to suggest to me because my son was having a sudden outbreak of eczema. By using the masso cream on her elbows, the skin softened considerably and the itching subsided. Thank you ! Karine Desmarais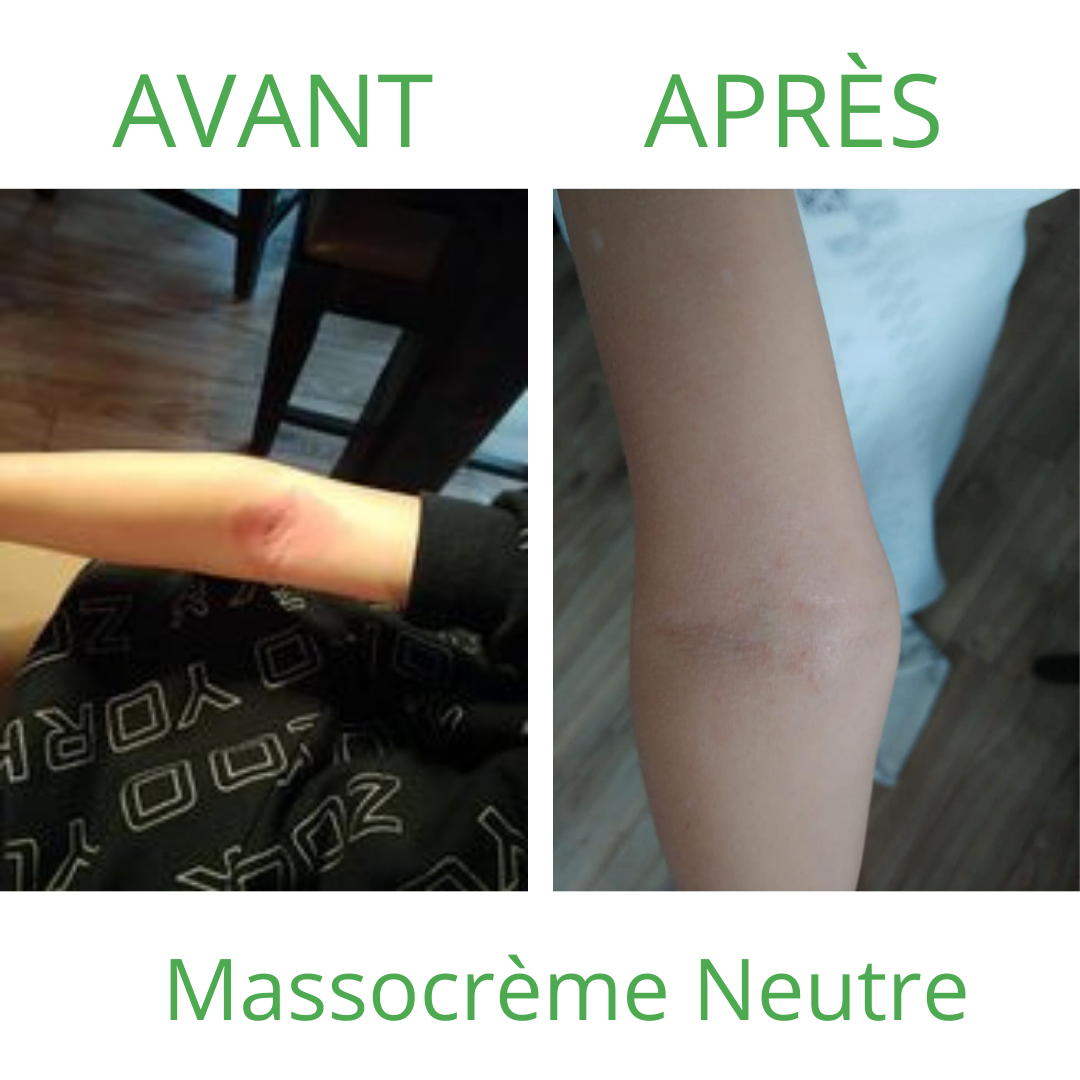 TESTIMONIALS
For you, my dear clients, I use the best oils or creams during your massage. I use Massoléum because its texture is silky almost creamy and does not leave the skin oily. It is the working tool par excellence for the massage therapist. It offers a tailor-made performance in massage therapy without having to constantly add to it. It doesn't take much to provide professional care. Each maneuver can be performed with dexterity and precision for different techniques such as Swedish massage, anti-cellulite and with suction cup.

Chantal Thibault Expert in feelings, Massage therapist


I use the essential oil with shea butter and the massage oil you don't stay oily skin I love it thank you for making me change my opinion on the cream I used to massage

Energizing Hands / Guylaine Lebel



Just WOW! I have just discovered MassOléum oil and I am more than satisfied. The glide, the feeling on the hands wow! Thank you Julie for this wonderful product.

Viviane Beland



I discovered professional quality oils, creams and gels. They do not stain, spread very well, magnificently effective for my maneuvers and in addition made in Quebec. A big WOW! To put in your massage therapy kit. Thank you Les PrOduits MassOleum ❤

Joane Lafontaine



I loved the MassOcrème cream ???? I am a reflexologist and this massage cream is extremely soft! Wowww !!! Thank you ❣️ ???? ❣️

Diane Provencher



For me, this is the oil that I prefer. My hands are very happy to have found this quality product. Then, a customer who leaves without the feeling of being oiled, it's pleasant.

Marie-France Lavoie



As a massage therapist, I have been using oil and cream for a few years. For 24 years that I have been in this field, it has won hands down on several spheres of such a product: product and bottle quality, glide, scent, for the environment, good for the skin (nourishes and hydrate), made with fresh and quality products, created with awareness of the skin of the client and the massage therapist, created by a massage therapist and a specialist (her colleague) who created dream products for the massage therapists but at the same time, Julie is also in the field. Thank you so much!!! ????

Nancy-Ayla Beauchesne



Excellent products, very pleasant to use. The technical sheet gives us precise information on the use of each of the products, and you just have to follow it! I have tested them all and everything is strictly correct! if you are looking for glide, a lot, go with classic oil. A little more grip, then this is the # 1 massogel. In short, it's great !!

Damise Dru



Super Rencontre, a very effective oil for cupping treatments Thank you ????????????

Huynh Ito Dhhc



I recently learned about Massoléum products and the results on a few of my clients and on my hands are marvelous (less cracking cuticles). Products that I highly recommend for those who are in the conscience and the well-being for each party, therapists as clients. A very nice discovery for me. simple natural products and more Quebecois. wow thank you Julie Quevillon

Chantal Thibault



Wow !! We fell in love with MASSOLEUM, super brilliant for working with such exceptional products! while leaving my customers with silky, silky, non-greasy skin. In addition to having soft hands��

Thank you so much! 5 stars

Nancy Giroux



Massoleum products are designed and manufactured FOR Massage Therapists. And the relationship with Julie is fluid like oil. I recommend this company that will eliminate the feeling of leaving your client "clingy" after a massage, and the stinging oil on your forearms from your practice. Rather, you will feel like you are working with a company that truly supports yours: natural, healthy and good!

Sylvie Charbonneau



5 stars

Caroline Grimard



I love working with the massocrème. The texture is perfect, is not sticky and the smell is light I can't wait to try the other products

Marie-Eve Cloutier



I just tried MassOgel and MassOcrème. Great product!

Sophie gariepy



Finally products that are extras for my hands ..... LOOOOOVE

Ka Pe