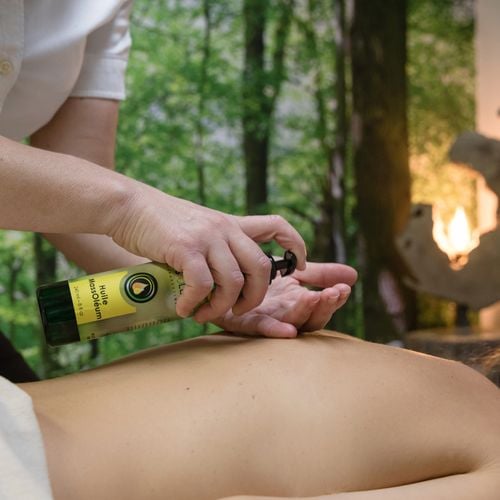 Sign up for our newsletter and get a 10% off promo code for your next order!
"MASSOLÉUM PRODUCTS THAT SMELL GOOD, LAST LONG AND DO NOT CRYSTALLIZE"
MassOléum is above all a company of the heart for professionals in massage therapy.
Whether you are a massage therapy professional or need to improve the appearance of your skin, our high-end products can meet your needs.
THOUGHT BY AN ACTIVE MASSAGE THERAPIST WITH MORE THAN 25 YEARS OF EXPERIENCE, 4 YEARS OF RESEARCH AND DEVELOPMENT WITH CHEMISTS IN DERMO-COSMETIC CARE. TESTED BY EXPERIENCED MASSOTHERAPISTS (ES) CREATED IN OUR LABORATORIES AND MASSOTHERAPY CABINET… SO THAT YOUR CARE BECOMES A MASTERPIECE AND A NEW MASSOTHERAPY CUSTOMER EXPERIENCE.
2 MASSAGE OILS - 2 MASSAGE GELS - 1 MASSAGE CREAM
+
6 SYNERGIES OF ORGANIC ESSENTIAL OILS
=
PERFECT FOR MAKING YOUR OWN PERSONALIZED PRODUCTS. PURPOSE SPECIFICALLY FOR THE THERAPEUTIC NEEDS OF YOUR CUSTOMERS OR YOURSELF.
Here is why our products benefit from being known:
ALL OUR BASIC PRODUCTS ARE NEUTRAL, WITHOUT ESSENTIAL OILS OR FRAGRANCES

OUR GELS ARE JELLIED, OUR OILS ARE BALANCED. THEY RELIPIDATE THE SKIN LIKE A BODY SERUM, OFFERING SLIDING AND GRIP AT THE SAME TIME

OUR CREAM IS ULTRA-MOISTURIZING; IN MASSAGE THERAPY, IT IS PERFECT FOR BABIES, CHILDREN, FACE AND END. IT IS ALSO VERY APPRECIATED AS A HAND CREAM FOR ROUGH, SEPARATED AND SENSITIVE SKIN. IT HAS AN INSTANT SOOTHING EFFECT

THEY TAKE CARE OF OVERALL HEALTH

OUR TEXTURES ARE INCREDIBLY SOFT

STORAGE VERY LONG AND NATURALLY

ALL OUR PRODUCTS REMAIN STABLE DESPITE CHANGES IN HOT / COLD TEMPERATURE

ONE APPLICATION IS ENOUGH FOR MASSAGES OF ONE HOUR OR MORE, IT DEPENDS ON SKIN TYPES

WORK TOOLS FOR INNOVATIVE, ADAPTED AND SKILLS MASSAGE THERAPISTS

LEAVE THE BODY OF YOUR CUSTOMERS NON-sticky, nor greasy, in a satin finish after the massage

CLOTHES EASY TO PUT ON, EXTEND THE RELAXATION OF YOUR CUSTOMERS BY AVOIDING THINKING OF CONSTANTLY SHOWERING TO DEGREASE

ADAPT TO YOUR NEEDS AND USE IN SYNERGY: OIL / CREAM OR GEL / CREAM TO IMPROVE SLIDE IN CASE OF HIGH PILOSITY OR CHANGE THE TEXTURE AS NEEDED

OUR INGREDIENTS ARE 100% NATURAL ECO-CERT AND VEGETABLES

BIODEGRADABLE

GLUTEN FREE, MINERAL OIL FREE, METHYLPARABEN FREE, SOLVENT FREE

MADE IN QUEBEC

RESALE TO YOUR CUSTOMERS AS "MASSODERMOTHERAPY" BODY CARE IDEAL FOR SELF-MASSAGE *

POSSIBILITY OF OFFERING BULK WHEN YOU BUY BIG SIZES

QUALITY OPAQUE GREEN BOTTLES TO PRESERVE YOUR MIXTURES OF CUSTOMIZED ESSENTIAL OILS

EASY LOCKABLE REDUCED DOSAGE PUMP WITHOUT LOSS OF PRODUCT FOR TRANSPORT
* Advice for use in body care: Apply after showering in self-massage (even on your face) to absorb the products well, put on your loungewear and let your skin absorb the softness of the ingredients chosen.
FOR MORE INFORMATION CONTACT US AT [email protected]