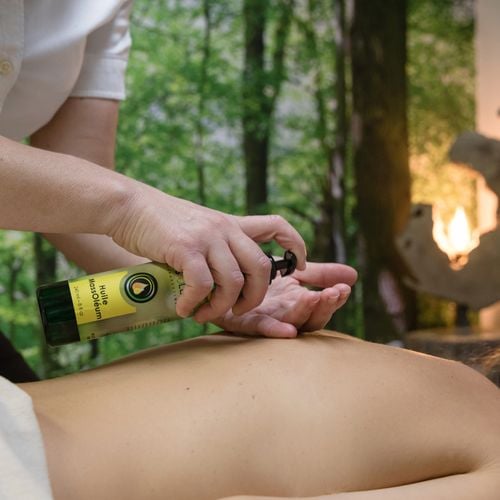 Sign up for our newsletter and get a 10% off promo code for your next order!
"Full awareness of your massage therapy products"

We must be aware of our products. If you are a massage therapist you often have your hands in OIL !!

Are they good for the skin? do they contain mineral oil? Solvents? Chemical preservatives?

Remember that our skin absorbs 60% of everything we apply to it !!

We are committed to being wellness specialists for massage therapy. Have products suitable for the job. In massage therapy, the product provides support for the mastery of our art, it is our main working tool. We create massage products with top quality ingredients. Our ingredients are chosen to keep professional skin healthy. INNOVATING at MassOléum is a fundamental value in helping massage therapists to optimize their professional performance in massage therapy.

A very important mission: Using fewer products is a first order criterion.

BEING 100% NATURAL BIODEGRADABLE, LOCAL, IN ADDITION TO BEING EXCELLENT FOR THE SKIN AND OFFERING SEVERAL FORMATS ARE DRIVING FORCES FORTHE COMPAGNY!

Together, for innovation in massage therapy! Products that listen to the needs of the reality of the business. Your suggestions and comments are important to us.

The art of massage takes on its full meaning with high-performance work tools that help master each maneuver!

The values of our company are the basis of a great adventure. Without them, MassOléum would not be what he is today. This is what has made our success since our beginnings!

ONE OF OUR MOST FUNDAMENTAL VALUES !

In massage therapy, that the products used are of natural origin goes without saying in order to respect oneself as well as its customers. Favoring the natural is worth its weight in gold when your main working tools are your hands. The hands of massage therapists are ultra-sensory and absorb all the products used, treatment after treatment. It is therefore important to read the labels of your products, for your health in the short, medium and long term. A wise choice will prevent you from eczema disorders, dermatitis and other skin problems related to repeated use of products.

Massoléum offers massage and body care product formulas with 100% natural and plant-based ingredients. The texture is sensational, silky and satiny. The synergy of oils, butters and selected active ingredients become an incomparable ally for the therapist and his client.

NO PETROCHEMICAL, SYNTHETIC OR ANIMAL DERIVATIVES ARE USED AT MassOléum, WE ARE NATURAL AND 100% VEGETABLE

When we come up with a formula, we choose the natural alternative to the often used chemical ingredient. For example DIMETHICONE (silicone) which comes from a natural source, it undergoes extensive chemical processing which ultimately makes the ingredient synthetic and leaves a huge ecological footprint. It is used to give massage products a good glide. In fact, it stays on the surface of the skin, which is why it allows a long-lasting glide. Its main drawback is that it forms a barrier on the skin, so essential oils or other active ingredients cannot penetrate the skin. It can also cause dermatitis or eczema if used repeatedly. That's why we don't use. Our alternatives are natural, plant-based and biodegradable.

WHY BANNING MINERAL OIL AND SILICONES?

Create a barrier on the skin and prevent active ingredients and essential oils from penetrating deeply
Prevent the externalization of sweat, causing dermatitis.
Clog pipes and filters by settling on the walls
Mineral oil and silicones are derived from the distillation of crude oil. They have large molecules that do not allow them to pass the skin barrier and therefore to act in depth. They have an occlusive power and are content to create a chemical film on the skin, without however providing it with nutrients, because they are inert, non-living fatty substances.

NB: DIMETHICONE = SILICONE

SO WHY DO SOMEONE USE THEM?

Because they are inexpensive, odorless, do not oxidize and store well.
Silicones provide long-lasting glide in massage products, as they form an "OCCLUSIVE" barrier on the skin.

DO NOT HYDRATE THE SKIN

Indeed, if we use too much these oils, they can lead to over-hydration of the skin which can be bad; the skin will get used to it and will no longer be able to hydrate and protect itself. It is certain that, since the hydration it provides only lasts as long as it is on the skin, when it is no longer there, the skin is dry; it will be necessary to put it back permanently without the skin being hydrated ...

ENVIRONMENTAL IMPACT

Not biodegradable
Non-renewable
Harmful to the environment
Mineral oils are excluded from the composition of green cosmetics, because they have a significant environmental impact. In fact, a product based on mineral oil, once rinsed, is found in groundwater, rivers, lakes and the ocean ... In addition, it is a so-called "fossil" material, which, once extracted, never renews itself.

AND THE PARABENS? CARCINOGENS?

Parabens are the most widely used preservatives in beauty products. These are synthetic preparations derived from petrochemicals. Besides, parabens easily penetrate the skin and are suspected of interfering with hormonal functions.

In one study, parabens were detected in human breast cancer tissue, raising questions about a possible association between parabens in cosmetics and cancer. Parabens could also interfere with male reproductive functions. *

ACCELERATED AGING OF THE SKIN

In addition, studies indicate that methylparaben applied to the skin reacts with UVB rays, causing accelerated aging of the skin and damaging DNA. *

* Source: David Suzuki Foundation



MISSION: ECO-RESPONSIBLE!



A product is said to be biodegradable if after use, it can be decomposed (digested) naturally by living organisms (micro-organisms). The choice of our raw materials has been selected to degrade better in pools and spas. Biodegradability is one of the most important parameters to characterize the environmental impact of an organic product. It depends on the one hand on the ability to be degraded and on the other hand the speed of digestion of the product in the biological medium. For example, a dead leaf is 100% biodegradable in a matter of weeks while a plastic bottle takes around 4000 years.

BIODEGRADABLE

Biodegradation chemically results in a process of gradually simplifying the chemical structure of an organic compound with the mineralization of carbon. However, the capacity of the ecosystem to absorb biodegradable products is limited, thus creating a risk of waterlogging such as, for example, the eutrophication of ponds (pollution with nitrates due to an excess of nitrogenous biodegradable materials).

VALUE: ENCOURAGING LOCAL PURCHASING

Although we use oils and ingredients from all over the world, the creation of our formulas is done entirely here in Quebec. We study trends from everywhere, in order to find innovative and efficient active ingredients and ingredients, and then integrate them into our products made in Quebec.

Our head office and our research and development laboratory are located in Terrebonne in Lanaudière. Production takes place in a trusted manufacturing laboratory located in Laval, which has professional equipment and meets our standards of good laboratory practice.

QUALITY: A PRIORITY

We ensure the freshness of the ingredients we use, in order to guarantee you effective products with an optimal shelf life.

VALUE: MAINTAINING A LOW ECOLOGICAL IMPACT

Proximity to our suppliers is just as important. In fact, we avoid making our raw materials and finished products travel unnecessarily.

We encourage partners as locally as possible. Although sometimes we have to source ingredients from further afield. Rest assured: we are making ecological and fair choices.

BUY FAIR

We buy our shea butter from KARIDERM which imports it directly from a women's cooperative in Burkina Faso. With their social fund, KARIDERM ensures that these women have good working conditions, so they offer a fair product.

It is therefore with pride that we manufacture, bottle and package our products, here in Quebec!

ADVANTAGES

Ensure the quality and origin of the products you buy
Encourage companies from here and from your community.
Reduce everyone's ecological impact.
Buy in bulk and take advantage of the filling of bottles and cans at the head office or at certain service points.