OLÉUM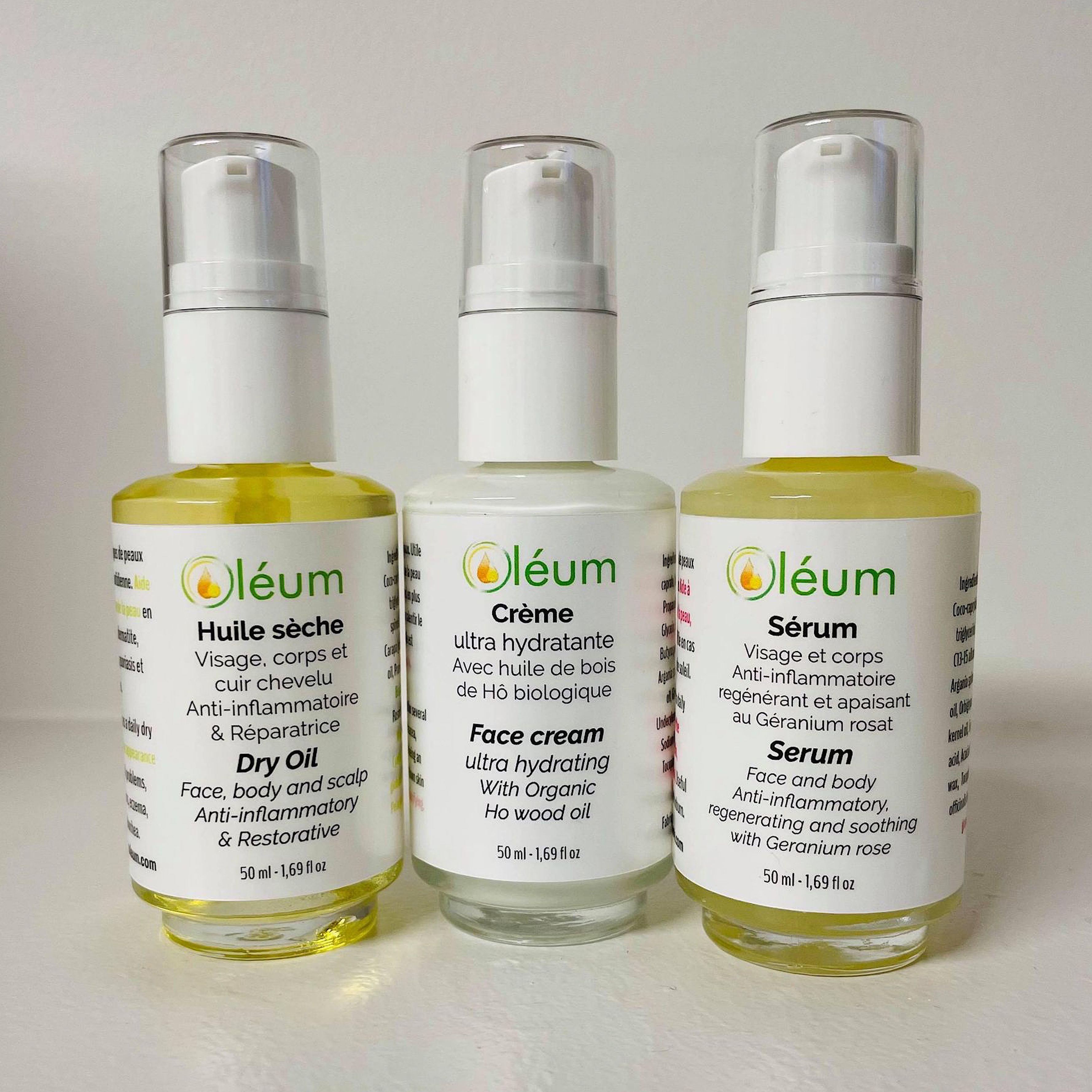 Massoléum is proud to present 3 new face and body care products
Whether you have normal, dry, dehydrated, aging, delicate or problematic skin, here are 3 high-end products suitable for everyone.
They contain exceptional ingredients such as:
Precious oils:
Argan Oil
It reduces wrinkles because it hydrates the skin. Argan oil is very rich in vitamin E which is antioxidant and it also contains many sterols which have a real anti-aging action. It also improves the elasticity of the skin. It improves healing and is also very effective on chapped skin (and crevices) in the hands and feet, but also on burns to the skin.
Andiroba Oil
It is known in the Amazon for its anti-inflammatory, antiseptic and healing properties.
Babassu Oil
Comes from sustainable harvesting in the Amazon and contributes to the local economy. It contains a high concentration of tocotrienols which gives it antioxidant and anti-aging properties. It is very penetrating and film-forming thanks to its high content of lauric acid. It is suitable for sensitive skin because it is soft and emollient.
Baobab Oil
Emollient and softening, it offers a soft touch to the skin. Nourishing and regenerating, it restores suppleness and prevents the skin from skin aging and stretch marks.
Cherry kernel oil
Emollient and protective, it strengthens the skin barrier, improves hydration * and slows down dehydration. Rich in antioxidants, it fights against the signs of skin aging
Plant and natural active ingredients:
Bisabolol (anti-inflammatory)
Squalane (relipidant, vegetable sebum, anti-wrinkle)
Shea Butter
Vitamin E
Rosemary extract (anti-oxidant)
Organic essential oils:
Dermatitis biocomplex (Dry oil) (Essential oils of Melaleuca, Palmarosa, Eucalyptus, Thuja, Rosat geranium and aspic lavender.
Helps improve the appearance of the skin in the following conditions:
Eczema
Psoriasis
Dry plates
Seborhea
Scalp (Hat)
Geranium Rosat (Serum)
Helps to improve the appearance of the skin in the event of the following problems
Oily skin
Acne-prone skin, problem skin
Dry skin, chapped skin, crevices
Itching
Sun burn
Stretch marks, scars
Anti-aging care, firming care
Dandruff
Antiseptic, antifungal, anti-bacterial
Ho Wood (Cream)
Helps to improve the appearance of the skin in the event of the following problems
Anti-aging (wrinkles, fine lines)
Slows down skin aging
Skin imbalances (acne, eczema, rosacea, dermatoses)
After-shave
Subscribe to the newsletter as a professional
By subscribing to our newsletter, you will be able to receive more information on our products as well as our current offers.
---
---
© 2023 MassOléum All rights reserved.